A 22-point, 20-rebound game by James led the Lakers in Game 4 against the Grizzlies, a win that put Ja Morant and Memphis on the brink of elimination.
LOS ANGELES — There are still milestones left for LeBron James to reach, as improbable as that seems.
In a 20-year career in which James has powered three franchises to championships and become the N.B.A.'s career scoring leader, he had never grabbed 20 rebounds in a game. Not in the regular season. Not in the postseason.
Not until Monday. Until his Los Angeles Lakers needed his muscle, his experience and his intuition. Until they needed James to push a brash young opponent, the Memphis Grizzlies, to the brink of a first-round playoff elimination.
"These are the moments that I love," James said. "I love the postseason."
The 117-111 overtime victory James helped deliver on Monday night led the Lakers, who started the season 2-10 and seemed lost heading into the trade deadline, to a 3-1 series lead over the Grizzlies, who spent all season as one of the best teams in the Western Conference.
The Lakers are in this commanding position because James found a way to push through his exhaustion in the final minutes of Game 4 and add to his lore. He grabbed rebounds, he took charges, he made a driving layup through contact with 29.1 seconds left in overtime and screamed into the crowd as he pounded on his chest.
"He understands the timing, the timing of everything," Lakers Coach Darvin Ham said. "The known of what happened yesterday and the unknown of tomorrow, it makes him even more entrenched in today, into the moment.
"All of his travels. All of the phenomenal things he's accomplished — he still has that passion, that grit to want to be on top and to want to put his team in position, the right way, to be successful. That's what you saw."
With 22 points and 20 rebounds, James became the first Laker to reach 20 points and 20 rebounds in a playoff game since Shaquille O'Neal in 2004. At 38, he became the oldest player in N.B.A. history to have 20 points and 20 rebounds in a game, beating a playoff mark set by Wilt Chamberlain in 1973.
James's presence is part of the reason it has been clear from the start of this series that the Lakers are no ordinary seventh seed. Their record didn't reflect who they were once Anthony Davis and James were available, if not fully healthy. They also improved significantly after remaking their roster at the trade deadline.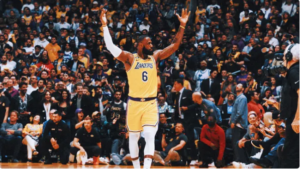 Conversely, the Grizzlies came into the postseason hobbled. Their starting center, Steven Adams, has been out with a knee injury, and Brandon Clarke, another player who lent size to their lineup, has also been injured.
Memphis lost Game 1 at home. But, famous for their bluster, that early defeat did not humble them. One Grizzlies player, Dillon Brooks, went directly at James on the court and off it.
During Game 2, Brooks said James called him "dumb" for acquiring his fourth foul.
"I don't care — he's old, you know what I mean?" Brooks responded.
"I was waiting for that," he continued. "I was expecting him to do that Game 4, Game 5. He wanted to say something when I got my fourth foul. He should have been saying that earlier on. But I poke bears. I don't respect no one until they come and give me 40."
Creating a rivalry with James can be an easy way for another player to siphon some of his spotlight. James knew that and wanted no part of it.
After a practice last week, James was asked several questions about Brooks's comments and sidestepped each one. He then ended his news conference early, before he was tempted to say anything that might escalate the feud. He said he preferred to speak through his play.
In the minutes before Game 3, though, James approached Brooks. There was no audio, but cameras caught the interaction and the video circulated on social media.
"There was nothing private about it," James said after the game, giving away that he wasn't actually ignoring all that Brooks had said. "It was very, very public. I like it that way."
The Lakers led by 35-9 after the first quarter of that game, driving their fans into a delirious frenzy and making Memphis's bravado seem foolish. The Grizzlies never recovered from their poor start even though Ja Morant scored 45 points. Brooks was ejected in the third quarter for a flagrant foul assessed when he struck James in the groin, putting an early end to whatever battle might have been brewing between them.
Still, not everything came easily for the Lakers on Monday.
They had a 15-point lead in the second quarter, but Memphis closed the first half with a 14-1 run and the Lakers led by just 2 at halftime. To end the third quarter, Morant wove through the paint to dunk the ball as time expired and gave Memphis a 2-point lead.
Late in the game, however, the Lakers got important contributions from several players. Davis, after a quiet game through three quarters, made important defensive plays late. D'Angelo Russell made three 3-pointers within a one-minute span during the fourth quarter to pull the Lakers out of a 7-point deficit.
But James's contributions, as he fought through fatigue in the closing minutes, meant the most.
"You just dig deep and understand that you'll be able to sleep at some point, just not right now," James said, looking drained after the game. "This is not the time to rest or forget about an assignment. You'll have plenty of time after a game and the next day to kind of rest and decompress as much as possible."