Veteran writer Shireen Abu Akleh was shot and killed while investigating an Israeli armed force assault in the Israeli-involved West Bank for Al Jazeera, the TV network gave an account of Wednesday. Al Jazeera says an Israeli power killed Abu Akleh; Israel's administration says it accepts she might have been hit by Palestinian gunfire.
Abu Akleh, a 51-year-old Palestinian American, had been covering a tactical assault on the Jenin exile camp "when she was shot in the face by a solitary projectile, regardless of wearing a press vest," Al Jazeera said. It said the TV journalist had been "killed without hesitating" after she was designated by the Israeli powers.
Israeli Prime Minister Naftali Bennett gave an assertion expressing, "As per the data we have accumulated, it shows up reasonable that furnished Palestinians — who were terminating aimlessly at that point — were liable for the lamentable passing of the columnist."
Witnesses fault Israel's officers for the columnist's demise
Al Jazeera maker Ali Samoudi was additionally shot while covering the assault. From his medical clinic bed, he let NPR know that the TV organization's group had shown up where Israeli officers were encompassing a Palestinian home in the Israeli-involved West Bank.
They strolled past fighters who permitted them to continue, he said. The writers were conveying camera gear and wearing blue vests set apart with "PRESS."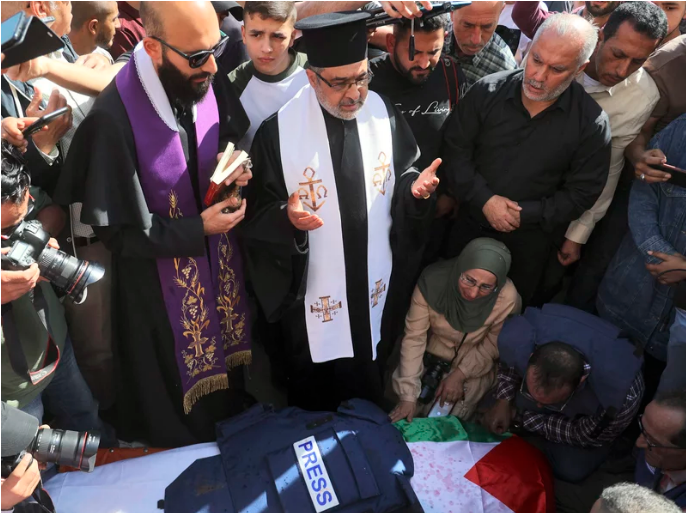 After they passed, he said, three shots rang out.
Samedi said the second shot him toward the back, and the third hit Abu Akleh in the head.
The maker contradicted Israel's evaluation that Palestinian shooters were probable dependable.
"There were no obstruction contenders around us," Samoudi expressed, as per an interpretation by Middle East Eye. "At the point when Palestinian contenders are shooting, we don't go."
Another observer, Palestinian writer Shatha Hanaysha, said columnists had been cornered when Abu Akleh was shot. Her partner's demise was death, she said.
"We stood together in an aggregate manner as writers, then, at that point, we began moving. We were stunned by the live ammo terminated at us," she told Al Jazeera. "We arrived at an area that didn't permit us to pull out."
The gunfire came from sharpshooters, she said.
"The one that killed Shireen was planning to kill her since he shot the slug at a region of her body that was not safeguarded," Hanaysha added.
Israel's tactical says it accepts Palestinian gunfire might have killed Abu Akleh
Israel's military said it "is examining the occasion and investigating the likelihood that columnists were hit by the Palestinian shooters."
The Israel Defense Forces said the assault was mounted "to catch fear-monger suspects" in the Jenin camp. It recognizes that its officers started shooting, yet it said that just occurred later "several Palestinian shooters terminated at and heaved unstable gadgets toward the troopers."
Whenever the officers started shooting, it said, they fired "around the shooters and hits were distinguished."
The IDF delivered a video that it says shows a Palestinian contender "carelessly started shooting" with his rifle during Wednesday's strike, adding, "They dishonestly professed to have hit an IDF warrior." The video doesn't show whether the individual discharging hit anybody, or where the slugs might have landed.
The presentation appeared to be on infer the shooter's projectiles could have struck the writers. Yet, B'Tselem, an Israeli common freedoms screen, said its field scientist had recognized the area of Abu Akleh's passing and that of the shooting — and said that the two spots are far separated.